All files on this article are named and licensed correctly as of 25/11/16.
Please try to keep files on this article named and licensed correctly from this date onward. Thank you!
Lazlow
I see someone changed his last name to a question mark...in GTA IV he says his last name...it is Jones...like his real name... I think we should keep the last name.....T-888 05:15, April 3, 2010 (UTC)
Template of "LCPD Database record" for separate character-pages
updated by 2014-03-16
fixed the bug which mess up everything after edit the page again.
LCPD Database record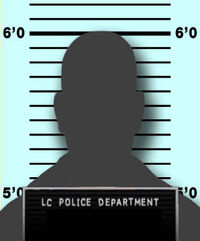 | | |
| --- | --- |
| Surname: | ____ |
| First Name: | ____ |
| Age: | ____ |
| Place of Birth: | ____ |
| | |
| --- | --- |
| Affiliations: | |
| Criminal Record: | |