Moving
Can someone of the admins move the page to "Combat MG"? This would be better for generalizing the weapon, given that it's not an actual M249 in all cases (this was similarly done with the Carbine Rifle, Combat Pistol, etc.) Ultimate94ninja talk · contribs 20:45, December 7, 2014 (UTC)
Well, but it's called Advanced MG in TBoGT, so that wouldn't be fair to rename it to "Combat MG"

(talk) 20:49, December 7, 2014 (UTC)
As it is to leave the name being M249. A couple of redirects and it's all good. Rain -

Talk

20:51, December 7, 2014 (UTC)

Yeah, right. While calling it "Advanced MG" would be an alternative option, I feel it's better to name it as it appears in the last game, in a similar reasoning to how the image in the main infobox is that of the last game.

Ultimate94ninja

talk

·

contribs

21:20, December 7, 2014 (UTC)
Manufacturer
According to game files the GTA V Combat MG definitely has a manufacturer. Can anyone precisely check which one in first person animations?

Rain - Talk
08:39, April 26, 2015 (UTC)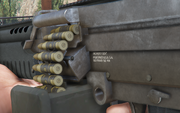 Could never find anything, but now with the editor and free camera, I found this:
"PROPERTY GOVT. INDUSTRIES U.S.A. S.A.81078649 7.62 MM"
— Stamping
Not much but better than nothing? Smurfy: illuminate - communicate - spectate 04:23, April 7, 2017 (UTC)
Not a M249 in GTA Online
In GTA Online, the Combat MG is not a M249, it's a skin of the M60.
RedmondEbonarm (talk) 16:10, January 6, 2017 (UTC)