Car's Name?
Is this the actual name of the car or a speculated name?
--Tony1998 (Talk * Contribs)-- 23:19, August 27, 2013 (UTC)
It's speculated now, but it could possibly be the vehicle.. only 19 days till we all know.
Instulent (talk) 08:59, August 28, 2013 (UTC)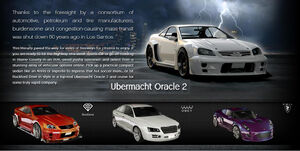 >>>
JBanton
(
Talk
|
Contribs
) 18:15, August 28, 2013 (UTC)
Nope. It was a typo, it's gone from the website now.



19:15, August 28, 2013 (UTC)
E65?
I don't see the E65 resemblance in this car though I may not be looking hard enough. Off topic: I hope the windows are frameless and coupelike like the real F06 Gran Coupe. :) --Zulu2065 (talk) 01:32, September 6, 2013 (UTC)--
F10
The info on the page is wrong, the car is not majorly based on the 7 and 6 series as claimed. Nor is it based on the 5 series GT. It is simply just an interpretation of the BMW M5 F10. The front lights are from the BMW 3-series F30 or the new BMW M4 F82. Next to that, the rear lights are either flipped upside-down or not entirely BMW based.
Flipswix (talk) 10:09, September 24, 2013 (UTC)
2015 BMW G11? 2013 Lexus LS and GS?
I've made quite a shocking discovery. Not sure when Rockstar stopped designing new vehicles for GTA V, but these renders for the 7er F01 successor, the G11, showed up in 2012 and were confirmed by BMW insiders to resemble the real thing. The front of the Ubermacht Oracle Sports strongly resembles these renders, sans the trademark kidney grilles. The rear seems to match the proposals for the 2015 BMW 7-Series, 2013 Lexus LS facelift, 2013 Lexus GS350, and 2013 BMW 750i/Li F01 LCi. See what I mean?
BMW did choose a final 2015 G11 design sometime last year, with magazine publications getting information from a design clinic in June 2012 and some BMW insiders. Possibly someone at Rockstar last year or earlier in 2013 noticed these legitimized propositions for the real life Oracle's replacement (2015 BMW 7[G11]) and decided to get ahead of them. Sorry about the poor quality photos, but I'm in a hotel room and can't capture my 360.
  Carmaker1
(
talk
) 01:59, September 27, 2013 (UTC)