Turn Lanes in GTA V?
In the end of Portola Drive there is a turn lane. :O  That's going to be awsome! Turn lanes will greatly improve the gameplay when your just cruising aroung LS. I mean wow that's gonna affect the realism of the game. May god bless you R*.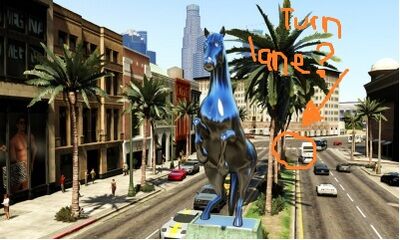 Fruffry (talk) 02:59, September 8, 2013 (UTC)Fruffry
Little Portola Page
Why not to create a page for Little Portola? I mean, I think Lester was referring to the alleyway itself in the mission Casing the Jewel Store rather than Portola Drive. Besides, the name fits perfectly. Thegtaseeker96 (talk) 00:31, January 15, 2015 (UTC)
I agree, Lester clearly gives directions to the shop On Little Portola
I say go for it. smurfy (coms) 01:23, January 15, 2015 (UTC)
I agree. 
(

) 01:24, January 15, 2015 (UTC)Smashbro8
Page created. Sorry for the delay, it was because of my internet. Thegtaseeker96 (talk) 02:38, January 15, 2015 (UTC)
Ad blocker interference detected!
Wikia is a free-to-use site that makes money from advertising. We have a modified experience for viewers using ad blockers

Wikia is not accessible if you've made further modifications. Remove the custom ad blocker rule(s) and the page will load as expected.