Sadler = '73 International Harvester 1110 Pickup...Not a Ford F-Series
What is this? I posted the correct real life vehicle of this here vehicle, yet someone changed it back. LOOK UP A 1973 INTERNATIONAL HARVESTER 1110 PICKUP! People should verify stuff before changing it back to something it's not. -CarLuver69 21:48, August 13, 2010 (UTC)
Can you link a picture of the International Harvester? Maybe I'm not looking at the right one. Because the only similarity I see is the placement of the grille, the rest is definitely the F-series because of the wheel arch design (how they wrap around the sides and ends of the vehicle) and the chrome on the sides.--Thescarydude 16:52, August 15, 2010 (UTC)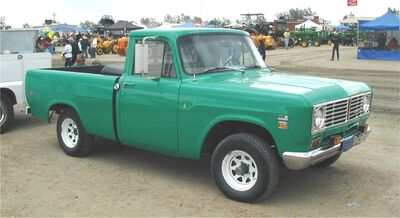 <--- The Front (It automatically made a thumbnail...)
http://www.moby302.co.za/for_sale/73_int_harvestor_01.JPG <-- Another Front Shot
http://www.moby302.co.za/for_sale/73_int_harvestor_04.JPG <-- The Back
I don't know about you, but the Sadler just SCREAMS this truck. - CarLuver69 21:16, August 15, 2010 (UTC)
I think it's too stubby. And it has a distinctive side design not seen on the Sadler.. Again the only similarity I see is the position of the grille. But this is all it comes down to.
--Thescarydude 13:48, August 16, 2010 (UTC)

it can be modded at a transfender cant it? ive modded there 1ce Titanattack 16:25, November 20, 2011 (UTC)Titanattack
Sadler (SA)
I think somebody messed up a little bit, because Sadler page should include the San Andreas version. I guess it was deleted when this page was moved. «Pato8» / Talk 20:03, September 12, 2013 (UTC)
I was really surprised when I didn't see anything about San Andreas, great if you could change it as soon as possible. I could, and would do it myself, using the history, but I think it would be better if someone who's more used to this wikia would do that.
Viktor Gleisner (talk) 06:36, September 13, 2013 (UTC)
Ad blocker interference detected!
Wikia is a free-to-use site that makes money from advertising. We have a modified experience for viewers using ad blockers

Wikia is not accessible if you've made further modifications. Remove the custom ad blocker rule(s) and the page will load as expected.