Ad blocker interference detected!
Wikia is a free-to-use site that makes money from advertising. We have a modified experience for viewers using ad blockers

Wikia is not accessible if you've made further modifications. Remove the custom ad blocker rule(s) and the page will load as expected.
Name
We need a better name for this highway, if we want to keep the article. Suggestions? Masterpogihaha 12:39, May 16, 2010 (UTC)
We could call it the "Shoreline Highway", "San Fierro-Los Santos Highway", "Angel Pine Highway", "Coast Highway", "San Andreas Route 1" etc.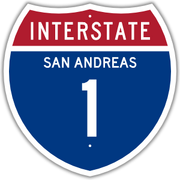 Ah45 11:38, January 16, 2012 (UTC)Ah45