Deletion
Bold textWhy is this article being put as deleted.Its a gang that has made an important appearance in GTA IV and there is no reason for this to be up for deletion.-User:BloodyGTA
Merge
Well there are apparently two identical pages... one titled "The Lost Brotherhood" and the other simply titled "Lost Brotherhood." One contains the gang box already and the other doesn't... I suggest deleting the one without the gang box.-[User:Mafioso86]
I agree.Let's merge the pages-HuangLee
The Lost MC ????
Where does the MC stand for ? it wont stand for mee (MC_JP) haha :)?
Think about it a little will you...geez. It obviously stands for Motorcycle Club! I mean Motorcycle Club, MC...it's fairly obvious! William Patterson 11:17, May 10, 2012 (UTC)
Template
I can't fix it, but the template for the infobox is kinda messed. After the chinatown wars entry under games, the infobox displays | |}}. I don't have the know how as to fixing it, so I thought I'd let someone who does know, know. Mc hammark 18:23, March 9, 2010 (UTC)
Broker
@Orto Dogge, I understand what you mean, but if you put Broker behind Alderney, people will assume that it is a Liberty City gang, with Alderney being in Liberty City too. But Alderney isn't in Liberty City. And people should know that, imo. I think there should be a distinctive (?) difference. Maybe put it like this?:
Alderney
Liberty City (Broker)
And do I make it less exact? I think it's more exact the way I did it. That is entirely your opinion.
-- Master Sima Yi 19:04, March 24, 2010 (UTC)
Affiliations
The Uptown Riders aren't allies with The Lost. If you see members of the Uptown Riders, they will still attack Johnny if they feel threatened or are attacked. Also, the Gunthugs don't neccesarily have to be allies. They don't 'help' The Lost when The Lost is attacked in GTA IV. If you just fire a shot while in their territory, they will start attacking you anyways. The Lost play no part in it. -- Master Sima Yi 06:44, April 19, 2010 (UTC)
The Gunthugs are allies of The Lost, in the Lost and Damned they are anyway. If Johnny gets into a fight they will rush to his aid often pursuing his attackers even when you leave the area. As for the Uptown Riders, no I don't think the club itself are allies of The Lost, just Malc and DeSean. William Patterson 11:24, May 10, 2012 (UTC)
Brotherhood
I can't really understand why the Lost is called "The Lost Brotherhood". The Angels of Death are also a brotherhood, as you can hear them call each other "brothers". I think it's unnecessary to put the "Brotherhood" part there as I am under the impression that an MC is always a brotherhood. -- Master Sima Yi 08:17, July 4, 2010 (UTC)
Vehicles
Do they use any CARS for their vehicles or only motocycles? IlyenaFan 13:29, August 1, 2010 (UTC)
Well, yeah. In missions and cut-scenes The Lost MC uses Slamvans, Terry Thorpe even owns one. The Angels of Death use Gang Burritos in missions and gang-wars and occasionally Slamvans. William Patterson (talk) 03:42, June 30, 2012 (UTC)
Los Santos chapter?
I see in the trivia section that someone has added that a van bearing The Lost MC logo can be seen in one of the GTA V trailers. I'm off to check out the trailer to see if it really is there but it would be awesome if it was. That would mean that The Lost didn't collapse after the Lost and Damned and perhaps simply relocated to Los Santos, which would be a nice touch by Rockstar. That still leaves the fate of Johnny and the others in question though as well as who leads the new chapter. Very nice! Enigma24 (talk) 21:43, January 19, 2013 (UTC)
Enemies? Street Gangs?
How are they enemies? In The Lost and Damned, you are member of The Lost. And It's not a street gang. Who started that one? Since when have they become a street gang? Fuck.....
Re
Yes, they are enemies and street gangs.
As seen in the GTA V's trailer, The Lost MC are enemies to the protagonist Trevor.
The Lost MC seen on the streets so they are street gangs.
Kingrhem talk 19:09, June 18, 2013 (UTC)
Lost MC Chapters
Some people keep altering the name of Liberty chapter to Alderney chapter, and the name of the Los Santos chapter to San Andreas chapter. There is no evidence for the Alderney name, and most of the main members of the Lost we see in TLAD wear rockers saying Liberty, including Johnny. Here is a picture of Jason Michaels that illustrates this. The bikers from Acter and Broker are both part of the same chapter, which covers the Liberty City metropolitan area - which also includes the parts of Alderney seen in the game. Hence the use of the name Liberty.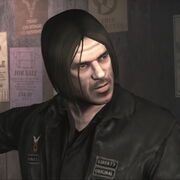 As for the one people keep calling the San Andreas chapter, its name is actually the Los Santos chapter. You can see this by looking at members of the Lost in V, such as Clay Simons. Again, this is because they are based in the Los Santos area, even when they are not literally in the city of Los Santos.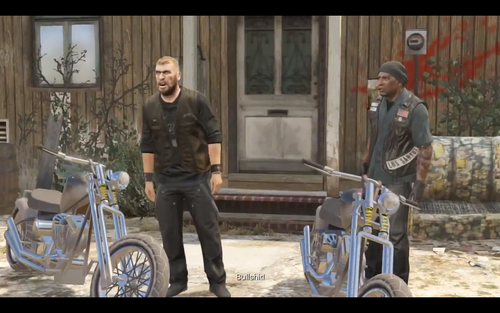 --SawyerDN (talk) 03:42, October 2, 2013 (UTC)
How do we know they have chapters on the East Coast and the Midwest? I imagine after The Lost and Damned and Chinatown Wars that the Liberty chapter would have disbanded. Does anyone have proof? Enigma24 (talk) 22:51, October 4, 2013 (UTC)
Relationship with Trevor
In mission "Nervous Ron" Trevor comments they no longer have to pay a bunch of idiots to stand around in leather sniffing engine fumes. Does this imply Trevor paid money to The Lost before taking over their business in the main storyline?1sonnyforelli (talk) 03:39, July 21, 2014 (UTC)
I don't think GTA V's storyline goes that deep into it, but Trevor used to do business with them, so I don't know. Snugeez (talk) 03:24, July 22, 2014 (UTC)
Ad blocker interference detected!
Wikia is a free-to-use site that makes money from advertising. We have a modified experience for viewers using ad blockers

Wikia is not accessible if you've made further modifications. Remove the custom ad blocker rule(s) and the page will load as expected.