Ad blocker interference detected!
Wikia is a free-to-use site that makes money from advertising. We have a modified experience for viewers using ad blockers

Wikia is not accessible if you've made further modifications. Remove the custom ad blocker rule(s) and the page will load as expected.
More GTAS
I just created this page and i kindly ask that people who know about tramps from other GTA games please put them in this article. --Chimpso 06:05, 30 June 2009 (UTC)
SA Tramps
I've seen many tramps in the San Fierro/Las Venturas areas. Are you sure they're not visible in the game? I can even give you a list of tramps in the game if you want.--Spaceeinstein 19:36, 13 July 2009 (UTC)
What version do you have? I had V1. but changed to version 2 to get mods. I never saw tramps in either of them. Trust me i have searched. The only way i could get them was a skin changer and get my gangsters to take a picture of me. --Chimpso 03:12, 15 July 2009 (UTC)
There are definatly tramps in both versions of the game. I own bot V1 and V2 and have seen homeless people in both.--Tornmuscle 03:22, 15 July 2009 (UTC)
So strange that i have not. Feel free to correct it if they are found. --Chimpso 03:23, 15 July 2009 (UTC)
Hobos do appear in the game, there's one that appears in the ghettos of Los Santos, and a lot are in San Fierro (including the ones with signs), they spawn a lot on the street south of the police headquarters. I'll see if I can get pictures. And I don't think that the updates affect this since they only change the GTASA.exe, not the popcycle.dat (I think).--Thescarydude 23:56, 15 July 2009 (UTC)
Okay, here's a cheap hobo montage.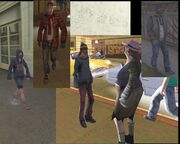 All of the hobos in that picture are from San Fierro at night at the place I mentioned (I just changed the brightness), there are so many hobos in San Fierro it's like an infestation. The guy at the top right is from Los Santos, (you see this guy all day). These are just some (if not most) of the hobos in San Andreas.--Thescarydude 00:23, 16 July 2009 (UTC)
rare rich tramp in GTAIV
In the first Trivia section, I found out it's still possible for tramps in GTA IV to drop large amount of money. It's very rare though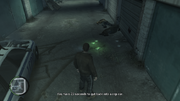 Red romanov 06:06, December 20, 2010 (UTC)
Disrespect 
I've had a conversation on the Live chat about this, I personally (and a few other wiki members) think "Tramps" is a disrespectful name for "Homeless people", especially for it to be a title. I've done a bit of research, and it turns out the official Wikipedia actually also calls their article "Tramps". 
Don't you think "Homeless" or "Homeless People" could be a better title? Also, when i first tried to find the page, I searched "Homeless People", and it turns out no Redirect exists either, so if we don't agree on having the title as "Homeless People", shouldn't we at least have it as a redirect? 

(talk) | (stalk) 20:13, April 13, 2015 (UTC)