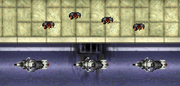 The Angels are a biker gang in Grand Theft Auto 1. They reside in Liberty City. They were in a small feud with the Vercotti Gang, after the Angels killed one of their dealers and stole the drugs. Bubby then orders the protagonist to steal one of their bikes with the drugs in it.
See Also
Ad blocker interference detected!
Wikia is a free-to-use site that makes money from advertising. We have a modified experience for viewers using ad blockers

Wikia is not accessible if you've made further modifications. Remove the custom ad blocker rule(s) and the page will load as expected.