Ad blocker interference detected!
Wikia is a free-to-use site that makes money from advertising. We have a modified experience for viewers using ad blockers

Wikia is not accessible if you've made further modifications. Remove the custom ad blocker rule(s) and the page will load as expected.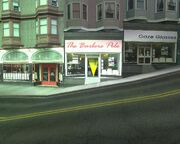 The Barbers Pole is a Barber Shop featured in Grand Theft Auto: San Andreas and is situated in Queens, San Fierro. The player can buy different styles of haircuts from The Barbers Pole at any time.
Haircuts
| Style | Respect | Sex Appeal | Price |
| --- | --- | --- | --- |
| Cesar | 5 | 15 | $60 |
| Blonde Hair | 0 | 15 | $60 |
| Pink Hair | 0 | 0 | $200 |
| Blonde Afro | 15 | 15 | $300 |
| Blonde Cornrow | 30 | 30 | $660 |
| High Afro | 15 | 0 | $150 |
| Wedge | 20 | 20 | $150 |
| Detail Cut | 25 | 30 | $100 |
| Groove Cut | 30 | 30 | $600 |
| Mohawk | 20 | 10 | $200 |
| Blonde Mohawk | 10 | 15 | $250 |
| Pink Mohawk | 0 | 0 | $400 |
Gallery