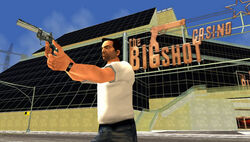 The Big Shot Casino, located at the Torrington district of Staunton Island, Liberty City, was a casino owned by the Sindacco Family in 1998, the setting of Grand Theft Auto: Liberty City Stories. When the Leone Family kicked the Sindaccos out of Liberty City, the Yakuza took it over and made it into Kenji's Casino. Toni Cipriani also kills Kazuki Kasen on the roof of this casino in a Katana duel, since he was about to kill him and his wife, Toshiko. A parking lot is located behind here, which spawns various vehicles.
Ad blocker interference detected!
Wikia is a free-to-use site that makes money from advertising. We have a modified experience for viewers using ad blockers

Wikia is not accessible if you've made further modifications. Remove the custom ad blocker rule(s) and the page will load as expected.