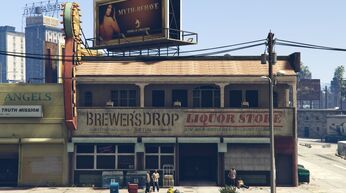 "HARD ON COMPETITION - SOFT ON CUSTOMERS"
―Motto
The Brewer's Drop is a liquor store in Grand Theft Auto V.
Description
It is located on Elgin Avenue beside the Vanilla Unicorn in Strawberry. Alcoholics and Tramps can be seen outside the store at all times of day. It is inaccessible to the player and plays no role in the storyline whatsoever.
Trivia
Ad blocker interference detected!
Wikia is a free-to-use site that makes money from advertising. We have a modified experience for viewers using ad blockers

Wikia is not accessible if you've made further modifications. Remove the custom ad blocker rule(s) and the page will load as expected.