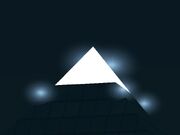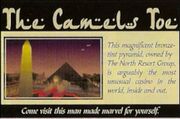 "Terrible Egyptian-style casino. They won't pay us off or anything. We should put the squeeze on these guys."
―GTA San Andreas Website
The Camel's Toe is a casino and hotel in Las Venturas, San Andreas. The hotel is a parody of the Luxor Hotel in Las Vegas, including the obelisk tower, the pyramid, and the recreated Sphinx. The name of the casino hotel is derived from "cameltoe", a slang term referring to the profile of a woman's labia majora as a result of wearing tight fitting clothes.
Though it is not possible to enter the casino itself, the player may choose to buy an available suite for $6000, therefore allowing the player access. The Camel's Toe is situated along The Strip, south of the Royal Casino and north of the Come-A-Lot casino.
A few streets east of The Camel's Toe bordered to the Julius Thruway East is also considered The Camel's Toe.
Collectibles
Horseshoe - Outer square surrounding hotel, opposite the Sphinx
Horseshoe - At the top of the pyramid
Vehicles
Euros (only when wanted for export)
Trivia
If the player uses an aircraft to reach the pyramid, the player will find that CJ can freely walk up and down the slope, as it is not steep enough to be unclimbable.
See Also
Suite - A safehouse for Carl Johnson.