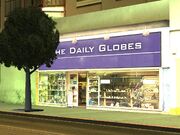 The Daily Globes is a newspaper in Grand Theft Auto: San Andreas. It has a headquarters/store in Hashbury und Garcia, San Fierro. The store is inaccessible to the player and plays no role in the storyline what so ever.
The newspaper's name may be a reference to female breasts, continuing Rockstar Games' crude humour. The Daily Globes is based on The New York Times.
There is a newspaper in GTA IV called the Daily Globe. They could possibly be connected, however, this is unknown.