"Challenging dirt bike point to point. Hold it together on this steep descent from the top of the Land Act Dam to the basin of the LS River in East Los Santos."
―-Race description
The Dam Before the Storm is a Bike Race featured in Grand Theft Auto Online.
It is available for up to 4 players only. Players must race from the shores of the Land Act Reservoir down through Mirror Park and the back alleys of La Mesa before finishing at the mouth of the Los Santos River near Elysian Island.
Map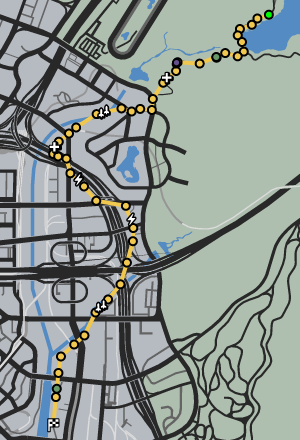 Ad blocker interference detected!
Wikia is a free-to-use site that makes money from advertising. We have a modified experience for viewers using ad blockers

Wikia is not accessible if you've made further modifications. Remove the custom ad blocker rule(s) and the page will load as expected.