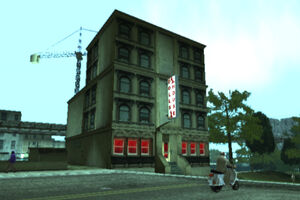 The Dolls House is a Sindacco Family-run casino and bordello on the eastern edge of the Red Light District of Portland, Liberty City. Little else is known of the building, and it doesn't feature any interiors.
In Grand Theft Auto: Liberty City Stories, protagonist Toni Cipriani destroys the Dolls House building in JD O'Toole's mission "Blow up 'Dolls'". Afterwards, the building's remains appear for the rest of the game. A Molotov Cocktail will also spawn in the remains of the building after the mission.
By Grand Theft Auto III, a new building, which is much wider and connects to the tunnel, has been built in the same space where The Dolls House's ruins were. Another building reminiscent of The Dolls House has also been built, but is positioned slightly south from the site of The Dolls House.
Collectibles
GTA Liberty City Stories
Gallery