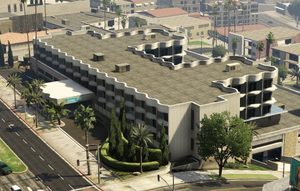 The Generic Hotel is a hotel in Grand Theft Auto V, located at the corner of Eclipse Boulevard and Milton Road in West Vinewood, Los Santos.
Description
It is a low-rise boutique hotel that features a pool in the back side of the building, although it's empty. The Generic also features an underground parking garage that can be accessed from Milton Road. In the enhanced version of GTA V, a bright purple lamp was added to illuminate the hotel.
Influences
The hotel is based on the real life Standard Hotel on Sunset Boulevard, Hollywood. The Generic's name is an obvious wordplay as the words "standard" and "generic" are both synonyms.
Prominent Appearances in Missions
Gallery
See Also
Ad blocker interference detected!
Wikia is a free-to-use site that makes money from advertising. We have a modified experience for viewers using ad blockers

Wikia is not accessible if you've made further modifications. Remove the custom ad blocker rule(s) and the page will load as expected.