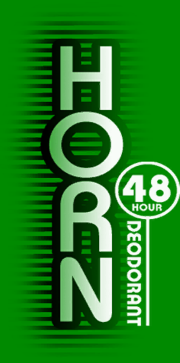 "Bring out the Beast."
―Motto
Horn Deodorant is a deodorant brand in Grand Theft Auto IV and Grand Theft Auto V
Description
Horn is a parody of Axe Deodorant, and Horn's effect lasts 48 hours (2 days). Horn billboards and advertisements can be found in some areas; the most notable one is located in Star Junction because this billboard features a large elaborate tube which looks like an enlarged horn. At 1 pm, large amounts of green gas are sprayed out of the end of this horn, to simulate the deodorant spray. It stops at 2 pm. In Grand Theft Auto V, all 24/7 and LTD Service stores sell Horn Deodorant, and a magazine depicting an advertisement of Horn (ripped from GTA IV) is found in the De Santa Residence, next to Jimmy De Santa's bed.
Gallery
Video
Ad blocker interference detected!
Wikia is a free-to-use site that makes money from advertising. We have a modified experience for viewers using ad blockers

Wikia is not accessible if you've made further modifications. Remove the custom ad blocker rule(s) and the page will load as expected.