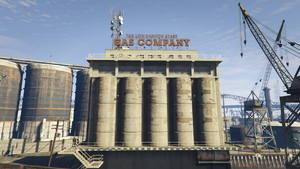 The Los Santos State Gas Company is the organization in charge of supplying gas to Los Santos, San Andreas and its surrounding areas in Grand Theft Auto V. The gas company owns large storage tanks and silos in Cypress Flats, Banning and Elysian Island in the Port of Los Santos.
Collectibles
Spaceship Part - at the company's Elysian Island facility, on top of the pipe connecting two dome-shaped storage tanks.
Gallery
Ad blocker interference detected!
Wikia is a free-to-use site that makes money from advertising. We have a modified experience for viewers using ad blockers

Wikia is not accessible if you've made further modifications. Remove the custom ad blocker rule(s) and the page will load as expected.