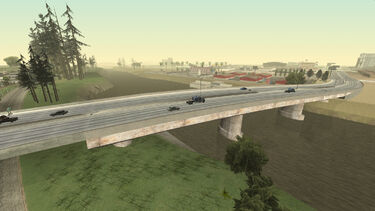 The Mako Span is a short highway bridge in Grand Theft Auto: San Andreas spanning the central portion of the San Andreas Sound, and serves as a connection to the Harry Gold Parkway and the Los Santos Freeway. It is located immediately north of the Montgomery Intersection in northern Red County. The bridge could possibly be named after the Mako Shark.
Weapons
Collectibles
A horseshoe - Located near the Tec-9 on the Las Venturas side
Trivia
Ad blocker interference detected!
Wikia is a free-to-use site that makes money from advertising. We have a modified experience for viewers using ad blockers

Wikia is not accessible if you've made further modifications. Remove the custom ad blocker rule(s) and the page will load as expected.