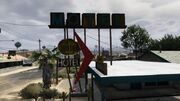 The Motor Motel (also known as the Motor Hotel) is a motel located along Route 68 in the Grand Senora Desert in Grand Theft Auto V.
Description
The Motor Motel can be found along Route 68, a relatively short distance away from the Bolingbroke Penitentiary and opposite the East Harmony shops. The motel itself is very simple, consisting of only one building housing twelve rooms in a shallow U shape. None of these can be accessed. It is known to be where actor Jack Howitzer and two people are staying. The Harmony branch of Los Santos Customs is directly to the east.
Events of GTA V
In a random event the player can deliver a drunk couple to the motel.
Gallery
Trivia
A room interior can be seen on television, on Jack Howitzer's show.
Regularly, when going to the motel as Trevor, the player will be attacked by members of The Lost MC.
Ad blocker interference detected!
Wikia is a free-to-use site that makes money from advertising. We have a modified experience for viewers using ad blockers

Wikia is not accessible if you've made further modifications. Remove the custom ad blocker rule(s) and the page will load as expected.