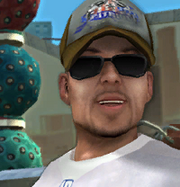 The Nickmeister is the name used by a male love-meet.net user in Grand Theft Auto IV. No matter how many times Niko Bellic contacts him, he will never date him. He is a stereotype of a male in the southern US and/or college with excessive machismo. He is implied to be the brother of Matte Black (he describes an annoying, effeminate "art fag" brother like him who calls him "dumb"), although they're both 21 and have little resembleance to each other.
Trivia
Ad blocker interference detected!
Wikia is a free-to-use site that makes money from advertising. We have a modified experience for viewers using ad blockers

Wikia is not accessible if you've made further modifications. Remove the custom ad blocker rule(s) and the page will load as expected.