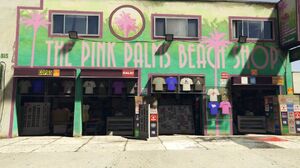 The Pink Palms Beach Shop is a beach-front store featured in Grand Theft Auto V.
Description
It is located on the corner of Vespucci Beach Sidewalk and Melanoma Street in Vespucci Beach, Los Santos.
The business appears to sell clothing items and post cards. The store itself is located next to Smoke on the Water. It plays no role in the storyline whatsoever.
Gallery