This article or section contains insufficient information and is considered as a Stub. You can help GTA Wiki by expanding it as much as you can.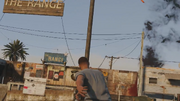 The Range is the name of the Lost MC hideout in Grand Theft Auto V and Grand Theft Auto Online. It is located in Stab City, Blaine County, San Andreas. It is possibly the headquarters of the Lost MC, as there are several trailers and recreational areas in the Range. In Mr. Philips, the Range is invaded by Trevor Philips, resulting in the deaths of many Lost members, including Terry Thorpe and Clay Simons. The Range is also featured in numerous GTA Online missions such as Daemon Run.
Mission Appearances
GTA V
GTA Online
Trivia
If you visit the Range before the events of Mr. Phillips, it will be abandoned.