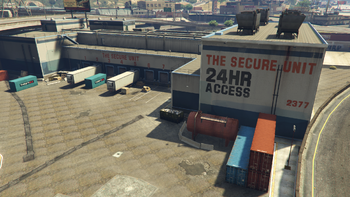 The Secure Unit
is a storage facility featured in
Grand Theft Auto V
.
Description
The warehouse is located in La Mesa, just under the Interstate 4/Interstate 2 intersection, with its entrance breaking off Popular Street.
The complex itself consists of a large building, presumably the processing unit, which bears the company name, along with "24 hour access", and registration number 2377. As well as the main building, the complex features storage units which have access doors for truck arrivals to drop off packages to store. There are 7 marked garage units on the front of the building with runner doors and several stacked boxes, wooden pallets and articulated truck trailers outside.
On the roof are heating and air conditioning units and extractors, with several security cameras, access ladders and walkway points around the entire rooftop. A large billboard advertising Stoppayingyourmortgage.net looking out onto the Olympic Highway is found on the roof of the storage units.
Around the rest of the site are shipping containers, as well as a large car park in the rear. Mules and Pounders can be occasionally found in the lot.
Gallery
Trivia
'Secure unit' is often a term relating to social services and children's homes, especially in the United Kingdom.