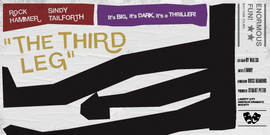 The Third Leg is a play advertised in Grand Theft Auto: Liberty City Stories. The play's name comes from the term "having a third leg", which refers to someone with a long penis; the graphic on the advertisement depicts one such person. It stars Rock Hammer and Sindy Tailforth.
The advertisement for the play can also be seen in Manhunt 2, another Rockstar game.
Trivia
Gallery
Ad blocker interference detected!
Wikia is a free-to-use site that makes money from advertising. We have a modified experience for viewers using ad blockers

Wikia is not accessible if you've made further modifications. Remove the custom ad blocker rule(s) and the page will load as expected.