This article or section contains insufficient information and is considered as a Stub. You can help GTA Wiki by expanding it as much as you can.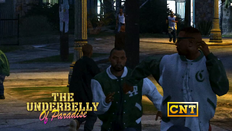 "Reality finally get's real, and real cheap to make! On The Underbelly Of Paradise!"
―CNT Announcer
The Underbelly Of Paradise is a TV show in GTA V, featured on CNT. The show is about an FIB agent named Steve Haines showing the crime side of Los Santos to the public. It seems to be a parody of many "reality" crime shows such as Cops.
After Steve's death in The Third Way, Dave Norton becomes the show's new host.
Gallery