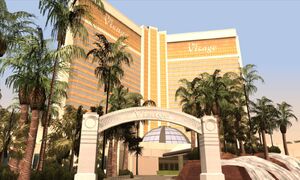 "A legend. Highly exclusive, very expensive."
―GTA San Andreas Website
The Visage is an inaccessible casino located along The Strip in Las Venturas, San Andreas. It is the second-biggest casino in Las Venturas, only next to The Emerald Isle. It has one large parking lot in the back of the casino and is accessible to the player. It has a large water feature, and it's closest counterpart is The Mirage Resort & Casino on the Las Vegas Strip in Las Vegas, Nevada. The Visage is very closely based on Las Vegas' Mirage Hotel And Casino, which has the same shape, and a very similar name. The Visage also has a great fountain in front of it, with lighting that looks like lava at night, which closely resembles the Mirage's main attraction, an artificial volcano.
Collectibles
Gallery