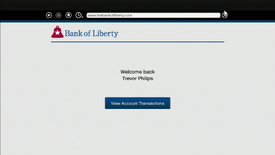 thebankofliberty.com is a website on the Internet for the Bank of Liberty in Grand Theft Auto IV, and Grand Theft Auto V. The website can only be used by Trevor Philips, but it cannot be interacted with in very many ways. In GTA IV, there is a login bar towards the left side, and hilariously, it says "insecure" on it.
Trivia
Ad blocker interference detected!
Wikia is a free-to-use site that makes money from advertising. We have a modified experience for viewers using ad blockers

Wikia is not accessible if you've made further modifications. Remove the custom ad blocker rule(s) and the page will load as expected.