The Thunder-Rodd is a vehicle which appears in Grand Theft Auto: Liberty City Stories.
Description
Design
The car is based on a 1948 Ford De Luxe, which has been modified into a hot rod, complete with low ground clearance, wider wheels, a chopped rooftop, flaming paintjob, and a red interior.
Bizarrely, the interior of the vehicle does not include a steering wheel.
Performance
Performance-wise, the car has great acceleration and a good top speed. However, the car lacks grip, resulting in less responsive cornering (the latter occasionally leads to the car sliding out of control), but compensates with good brakes.
Locations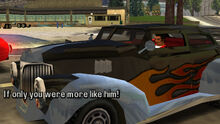 Trivia