The Titan is a fixed-wing aircraft featured in Grand Theft Auto V and Grand Theft Auto Online. It resembles a C-130 Hercules in real life.
Description
The aircraft is a military cargo plane based on the Lockheed C-130H. It is seen in the Grand Theft Auto Online gameplay video as it appears to be stolen from Merryweather by players for a multiplayer.
Locations
Grand Theft Auto V
Parked at Fort Zancudo military base
(You will obtain 4 stars if you enter the military base)
Trivia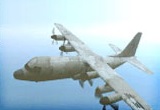 Like in most aircraft seen until now, the landing gear can be retracted into the plane.
A picture of the Titan, amongst other aircraft, can be found on the Rockstar videogame Max Payne 3, in the multiplayer map Tiete River Docks. Curiously, the game was released in May 2012, more than a year before Grand Theft Auto V.
So far, it is one of four new fixed wing aircraft in GTA V, the other three being the Cuban 800, Luxor, and Velum.
You can open its cargo bay door by punching it.
It is difficult to obtain this vehicle early from the military due to its size, takeoff speed, and the tanks shooting at you.
Storing it in any hangar is not advisable, as the plane will spawn with one of its wings sticking into the hangar wall, and then explode.
See also