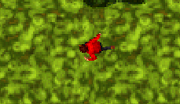 Tony is a character in Grand Theft Auto 1 who works for Bubby. The protagonist drops off the drugs to Tony during a mission.
Trivia
Interestingly, the player can kill Tony after he picks up the drugs and still successfully complete the mission. Killing him provides alternate dialogue afterwards. However, killing him before he picks up the drugs will result in a mission failure.
Ad blocker interference detected!
Wikia is a free-to-use site that makes money from advertising. We have a modified experience for viewers using ad blockers

Wikia is not accessible if you've made further modifications. Remove the custom ad blocker rule(s) and the page will load as expected.