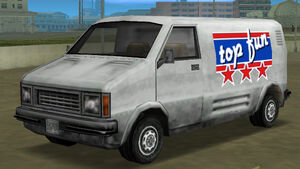 The Top Fun van is a vehicle in Grand Theft Auto: Vice City that contains controls for RC (remote controlled) cars, helicopters, and planes. It also exists in the files of Grand Theft Auto: Vice City Stories but spawning it using a cheat device will result in the game crashing.
Description
The Top Fun van is identical to the Pony, but has flat sides. Once entered, it automatically starts a mission involving RC vehicles. The various RC vehicles are used for missions which involve races or carrying explosives to targets. The van is invariably painted white, and also emits a different engine noise from the Pony, sounding like a gasoline/petrol engine unlike the diesel sound emitted by the Pony.
The name of the van is obviously a pun of "Top Gun", a 1986 film.
Locations
GTA Vice City
See also