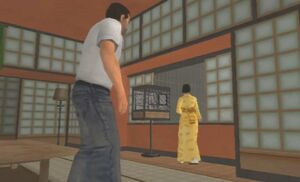 Toshiko Kasen's Apartment is a location featured in Grand Theft Auto: Liberty City Stories.
Role
The Apartment is the Torrington home of Toshiko Kasen, wife to Yakuza leader Kazuki Kasen. It could be inferred that Kazuki also resides in the apartment, but this is never stated in-game and, due to the couple's estrangement, it is also possible that Kazuki lives away from his wife. The only room ever shown during the game is the apartment's living room, which is decorated with a traditional Japanese style, featuring wood and cloth meshing doors and walls and short-legged tables.
It is from this apartment that Toshiko gives all her missions to game protagonist Toni Cipriani.
Mission Appearances
Ad blocker interference detected!
Wikia is a free-to-use site that makes money from advertising. We have a modified experience for viewers using ad blockers

Wikia is not accessible if you've made further modifications. Remove the custom ad blocker rule(s) and the page will load as expected.