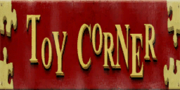 Toy Corner is a toy store in Grand Theft Auto: San Andreas. Their logo can be seen on Mules. Their only store is in Marina, Los Santos and is inaccessible to the player. Known products include $9 masks (such as alien, clown, and witch), and a $12 party kit (including balloons and catering).
The store also appeared in Manhunt, at the Carcer City Mall.
'Toy Corner' bears close resemblance to a typical sex shop which sells sextoys.