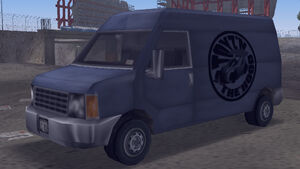 The Toyz (spelled "TOYZ" in GTA III) is a van in featured in Grand Theft Auto III and Grand Theft Auto: Liberty City Stories.
Description
The Toyz is a depicted as a hobbyist van that contains remote-controlled cars and explosives. The van is identical to the Pony, but has flat side panels with Toyz'n The Hood logos, similar to the Panlantic.
When found and entered, it starts a mission where you use remote control cars in order to destroy people and property, rampage style, and sometimes an RC checkpoint race is activated instead. During these side-missions, the vehicle cannot be moved or exited, so care must be taken not to set it on fire by setting off explosions too close to it.
You can avoid starting the RC missions by pushing the van forward about two car lengths OR by taking it while on a mission. The van is light blue in Grand Theft Auto III, and white in Grand Theft Auto: Liberty City Stories.
Locations
GTA III
GTA Liberty City Stories
Trivia
In the beta of GTA III, you were meant to have two more missions involving this car. Their targets were meant to be the Yardie gang cars and the Cartel Cruisers, as seen in american.gxt.
See also