"Get in touch with your inner pioneer on this venture into the wilderness round Sandy Shores, where the great frontier traditions of sunstroke, incest and cannibalism have been so lovingly preserved. Off-road race with plenty of jumps along the dirt roads around Route 68."
―Description
Trail Blazers is a Land Race featured in Grand Theft Auto Online for the PS4/XboxOne only. It is available for up to 30 players.
This race was added in the initial release of GTA V for 8th generation consoles and has not been made available for PS3 or Xbox 360 versions of the game. 
Map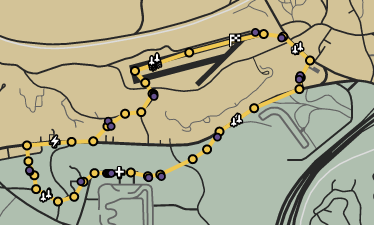 Ad blocker interference detected!
Wikia is a free-to-use site that makes money from advertising. We have a modified experience for viewers using ad blockers

Wikia is not accessible if you've made further modifications. Remove the custom ad blocker rule(s) and the page will load as expected.