This article needs more images.


You can help by adding some relevant images or discussing changes on the talk page.
Please remove this template when images are added.
Note: Please remember to follow our image policy in naming and licensing before adding images.

Triathlons are multi-leg, multi-vehicle checkpoint races introduced to Luis after the mission This Ain't Checkers in The Ballad of Gay Tony.
DescriptionEdit
Triathlons are multi-vehicle races comprised of 3 stages; Sky diving, powerboat and street racing. The races are marked on the map by a checkered flag in BOABO, Charge Island and Normandy. Upon walking through the starting sign, the player will immediately be airlifted into the sky, given a Parachute, and instructed to jump from the helicopter. Once the player parachutes to the ground, boats will be waiting in the sea or river below, and the racers will attempt to land in them. The boats are raced to a beach on the island, where there are supercars loaded with tanks of nitrous oxide waiting. The cars are then raced to the finish line.
Unlike Beat the Cock! in Grand Theft Auto: San Andreas, completing the triathlons is required for 100% Completion.
Available vehicles are :
Boats
Cars
First prize grants the player $1,000. The game will also be saved and the player will be shown their time to completion. Triathlons can be repeated endlessly.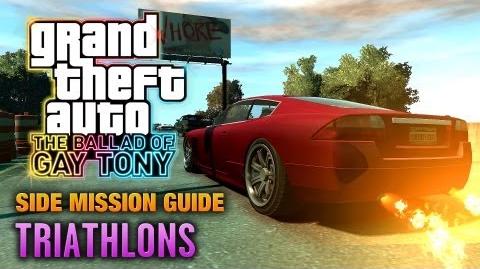 See also Edit