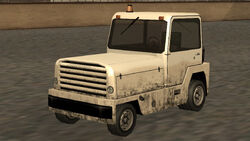 Tug is an airtug featured in Grand Theft Auto: San Andreas. This vehicle should not be confused with the Tug Boat featured in Grand Theft Auto IV.
Description
GTA San Andreas
The Tug in GTA San Andreas is designed as a haul-pulling tug similar to the game's Baggage, except the Tug is far more compact and enclosed, with only one seat, no cargo hold (the Tug only carries a fire extinguisher in the rear), and a closed driver compartment; like the Baggage, however, the Tug is also consistently painted white. While featuring a stationary tow hitch similar to the Baggage, it is not capable of towing anything. Contrary to its appearance, the Tug has a high overall speed but low acceleration.
It can be assumed the Tug is adopted for used in other locations other than airports, as it is also present in an underground government base.
Trivia
GTA San Andreas
When using the carnival cheat, Tugs have lowrider suspension.
The default radio station in the Tug is K-DST.
Despite its appearance, the Tug boosts the player's sex appeal.
Locations
GTA San Andreas
Parked in the Easter Bay Airport.
Inside the Area 69 complex, in the underground area only accessible in the mission Black Project.
See also