"This dustbowl was once arable farmland supporting dozens of homespun rural communities, which made it terrible for off-roading. Shake off the depression and make the sand dunes work for you on laps of this tight Sanchez race by the Alamo Sea. Remember, we're optimists, so the glass is half full, even when it's half full of dust."
―Description
Trail Blazers is a Bike Race featured in Grand Theft Auto Online for the PS4/XboxOne only. It is available for up to 30 players.
This race was added in the initial release of GTA V for 8th generation consoles and has not been made available for PS3 or Xbox 360 versions of the game. 
Map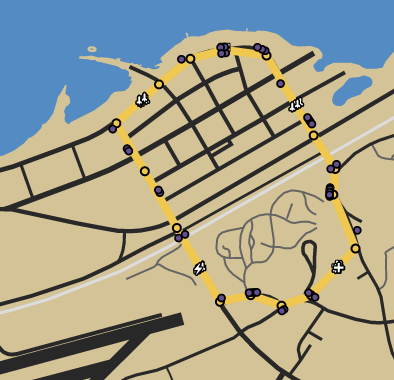 Ad blocker interference detected!
Wikia is a free-to-use site that makes money from advertising. We have a modified experience for viewers using ad blockers

Wikia is not accessible if you've made further modifications. Remove the custom ad blocker rule(s) and the page will load as expected.