Turtle Head Fishing Company
Talk

3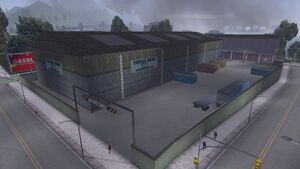 The Turtle Head Fishing Company is a company presumably specializing in fisheries, based in a factory in Callahan Point, Liberty City.
Description
In 1998, during the events of Grand Theft Auto: Liberty City Stories, it was called the Mafia Drug Factory and it was owned by the Leone Family but when Don Salvatore Leone sent Toni Cipriani to collect some money, the Triads were already at the factory and destroyed the building. After the explosion, Toni had to go around the factory collecting the money while killing Triads along the way and managed to escape. But in 2001, Claude was ordered by Toni to blow up the same factory. When the factory got blown up, the war between the Leone Family and Triads ended. In Pike Creek, Shoreside Vale, there is another factory owned by Turtle Head Fishing Company, but it is unknown if this one belongs to the Triads or not.
Notable appearances
Blow Fish (Grand Theft Auto III) - Where you need to destroy the Triad Warehouse using the Trashmaster.
The Trouble with Triads (Grand Theft Auto: Liberty City Stories) - Where you need to collect the scattered money and escape the facility.
Trivia
The factory contains several gas canisters, which you have to blow up in both Blow Fish and The Trouble with Triads.
Though the gate to the factory is closed, the workers in there are armed with pistols.
The direct Chinese translation of "Turtle Head" is "龜頭", which means penis in spoken Cantonese.
After completing "Blow Fish", Triads stop spawning in and around the area.
In the UK, turtle head is slang for desperately trying not to excrete.