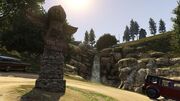 Two Hoots Falls is a small park and waterfall located in Tongva Valley, Los Santos County, San Andreas in Grand Theft Auto V.
Description
The Falls are located off a small dirt road near the intersection of Route 11 and Zancudo Barranca. The area consists of the Falls themselves and a totem pole-like structure in the shape of an owl which bares the Falls' name. The Falls themselves are not very high and the stream of which they are a part serves as a tributary to the Zancudo River. The area is populated by deer and other wildlife.
Trivia
Ad blocker interference detected!
Wikia is a free-to-use site that makes money from advertising. We have a modified experience for viewers using ad blockers

Wikia is not accessible if you've made further modifications. Remove the custom ad blocker rule(s) and the page will load as expected.