Tyler Dixon, also known as Ty-Di in the media, is a character in Grand Theft Auto IV and Grand Theft Auto V. He is a backup dancer and Cloe Parker's deadbeat fiancé. He is a parody of Kevin "K-Fed" Federline, a backup dancer who is well known for his slacker attitude and his brief marriage to and very publicized divorce from Britney Spears. He has demanded a $3-million dowry in response to the 900-page pre-nup that he was asked to sign earlier. Dixon has a history of drug addiction and petty crime, his record includes: possession of crack cocaine in 1998 and assault in 2004. He is said to have smoked PCP since he was 5, and lost his virginity to his mother at the age of 9.
By 2013, Dixon has gone into acting and is set to star in a reality show that he's interviewed about on Chattersphere. Between 2008-2013 he was married to Chloe, but they ended up divorced. Nigel and Mrs. Thornhill ask Trevor Philips to steal Dixon's outfit for them. Trevor heads to Dixon's mansion to steal the outfit; the player has an option to kill Dixon but he will still talk about his clothes being stolen on Bleeter afterwards.
LCPD Database record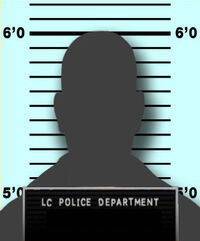 | | |
| --- | --- |
| Surname: | Dixon |
| First Name: | Tyler |
| Age: | 25 |
| Place of Birth: | Dukes, Liberty City |
Affiliations:
Criminal Record:

1998 - Possession Controlled Substance: Crack Cocaine
2001 - Possession Controlled Substance: Intent to Sell
2004 - Assault
Notes:

AKA Ty-Di
History of drug addiction and petty crime.
Violent tendencies, smoked PCP for 20 years.
Believed to have lost his virginity to his mother at the age of 9.
Engaged to Algonquin celebutante, Cloe Parker.
Mission Appearances
TBOGT
GTA V
Trivia
Dixon is one of the featured celebrities on the Vinewood Walk of Fame.
According to his Bleeter post after Trevor stole his underwear, he seemed to take the theft as a sort of compliment.