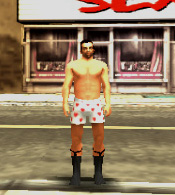 The Underwear Outfit is a gag costume, consisting of a pair of boxer shorts with hearts on them.
Description
A pair was given to Toni Cipriani in Grand Theft Auto: Liberty City Stories as a bonus prize for completing the first of the game's unique stunt jumps. It has no storyline use or benefit to the player except as a novelty item.
There are other occasions in which a player character can don underwear:
In GTA San Andreas, Carl Johnson can remove his clothes in the wardrobe and remain in his underwear only.
In Grand Theft Auto V, players can choose each of the characters underwear in the outfit section of wardrobe, Trevor Philips may be encountered in various random situations when switched to from another protagonist in which he is in his underwear for some reason.
In Grand Theft Auto Online, the player uses a pair of white sports shorts as a substitute for "tighty whiteys". This can be seen when the player takes a shower in their apartment.