Ad blocker interference detected!
Wikia is a free-to-use site that makes money from advertising. We have a modified experience for viewers using ad blockers

Wikia is not accessible if you've made further modifications. Remove the custom ad blocker rule(s) and the page will load as expected.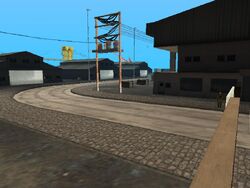 Wikipedia
The
United States National Guard
is involved in the
Grand Theft Auto series
on many occasions during the
Grand Theft Auto III Era
. They are the reserve force of the
United States
military
.
San Andreas
The National Guard had its own "territory" by some warehouses in Ocean Docks, Los Santos. There they store weaponry, vehicles, and ammunition. In the mission Robbing Uncle Sam, Ryder and CJ managed to break through the gates and steal crates of weapons. When the player gains a six star wanted level the National Guard will give chase in Barracks OLs and Rhinos. It is assumed that this is the State of San Andreas' own "division" of the National Guard.
Liberty City Stories
They were called to investigate the destruction of Fort Staunton in Staunton Island, which they reported was due to explosions caused by weapons underground - which was actually true.