558050
| | |
| --- | --- |
| | This user thinks GTA is the best series of games ever |
| | |
| --- | --- |
| | This user thinks L.C.H.C is the most epic radio station in the whole GTA Series |
| | |
| --- | --- |
| | This user thinks Vladivostok FM is the best radio station in GTA IV |
| | |
| --- | --- |
| | This user thinks Soulwax FM is the best radio station. |
| | |
| --- | --- |
| | This user thinks GTA IV is the best GTA game |
| | |
| --- | --- |
| | This user thinks GTA V is the best GTA game |
| | |
| --- | --- |
| | This user thinks Michael is the best protagonist |
| | |
| --- | --- |
| | This user is a proud owner of an Xbox 360 |
Welcome
Welcome to the profile page of the user 558050. It maybe not be the best profile of GTA Wiki, but its nice and clean, and smell like lemon. (OK, maybe i just made up that last part)
Since you are here, I think you should stick around and enjoy my profile. But you can also go away and never return, I mean, its not like you should do everything i want, I'm just a guy talking to you through a computer not your mother. Anyway, back to my profile...
About Me
I'm from Brazil (the new homeland of Max Payne \0/), meaning that english its not my mother tongue, so if you find any grammar mistake along this page, you know why. I have been GTA since the age of 8. My very first GTA was GTA III, that I played on the computer of a uncle. I loved that game like no other game that i have ever played and my parents ended up buying a PS2 for me just because of that game, later i whould also buy an Xbox360 just because of GTA IV. Looking this logic, you can problably guess that i will only get a PS4 or XOne when Rockstar announce GTA 6.
Favorite Protagonists
Everybody loves tops, so heres one with my 5 favorite GTA protagonists:
5-Carl "CJ" Johnson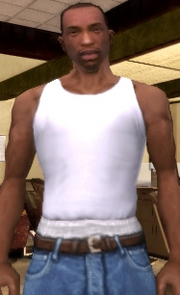 Theres not much to say about CJ, everyone already knows everything about this guy and I understand why so many people love him so much. His gangsta way is very likeable, he is very concern about his family and gang and also a loyal friend, its a shame that his own trust in his friends ended up costing him a lot through the game. He seems also very innocent sometimes (especially when he is around Catalina). CJ its an unique protagonist in the GTA series and deserves all the love that he gets.
| | |
| --- | --- |
| | This article or section is Under Construction. |
Don't worry, my profile should be finished soon. or don't