(Sorry I've been absent for a while, Red Dead is sucking my extra time)
Yo, what's up? I'm Black Artist, and I like to play Grand Theft Auto Games.
Userboxes
| | |
| --- | --- |
| 16 | This user is 16 years old |
| | |
| --- | --- |
| | This user thinks GTA IV is the best GTA game |
| | |
| --- | --- |
| | This user thinks GTA is the best series of games ever |
| | |
| --- | --- |
| | This user follows the Official Policy of the GTA Wiki. |
A little about meEdit
I've been playing GTA for the past 2 or 3 years now, after getting hooked on a borrowed copy of Grand Theft Auto: San Andreas my cousin lent me. Now I play all 4 of the main console games, though I usually play The Lost and Damned and The Ballad of Gay Tony. I'm not really a huge, page changing editor, I'm usually just adding and rearranging info, fixing grammar, organizing subtitles... But I really have it in for links. I'm always adding insite links to pages, especially to words I feel should have been linked a long time ago.
Games I've played/ownEdit
Although I personally own all of these, I've never 100% any of them. I'm usually just too lazy, but in my defense, it's nearly impossible in San Andreas.
Online Play (Member of PS3 brotherhood)Edit
I feel the online play is solid, (I've had the good fortune to play a 5 on 5 game of RPGs several times with decent players, which is a blast), though it's sometimes very hard to find a decent sized game on PSN nowadays, especially for Team Deathmatch or Cops and Crooks. Now that I have EFLC, I'm usually playing that, (Or Red Dead Redemption) though find good sized games is still a problem.
FavoritesEdit
Favorite Weapon: Desert Eagle
Why?: The sexiest gun in any GTA game.

Favorite Car: Bullet GT
Why?: Takes almost no damage from anything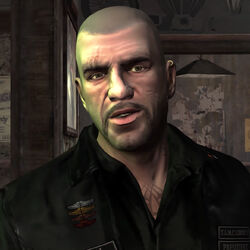 Favorite Main Character: Johnny Klebitz
Why?: John Boy is a favorite because he handles his business. When everyone else is confused and doesn't know what to do, Johnny's the one to step up and get things done.