---


Important:
Due to learning for school exams, I might not be fully active during this month.


You may contact another staff member.
---
I am a Patroller on GTA Wiki.

Message me if you have any problems or questions, or if you spot anything bad.
Dodo8
Hello! I'm Dodo8. I'm a fan of the GTA series. I'm 14 and I'm from
Romania
.
About Me
Dodo8
| | |
| --- | --- |
| | This user thinks GTA is the best series of games ever |
| | |
| --- | --- |
| | This user thinks GTA V is the best GTA game |
| | |
| --- | --- |
| | This user thinks Trevor is the best protagonist |
| | |
| --- | --- |
| 14 | This user is 14 years old |
| | |
| --- | --- |
| | This user is a proud owner of an Xbox 360 |
| | |
| --- | --- |
| | This user follows the Official Policy of the GTA Wiki. |
Hello. My name is Dragoș (the last ș pronunciation is sh). I a, born in Ploiești, a city near Bucharest, Romania. Some friend of my parents called me "Dodo" when I was a kid, and since then this is my nickname. I'm studying at a school in the center of the city. My favorite school classes are Mathematics and English, and a little bit Geography. I am passioned about computers.
How I started playing GTA games
When I was 7, my cousin used to play video games most of the time. He had GTA: San Andreas and GTA: Vice City. In 2010, I first played GTA IV. In December 2012, I got GTA: Episodes from Liberty City.
Language
I'm a native

Romanian speaker, which is a Latin language. I also speak
English, I'm the best in my class. I can also understand

French,

Portuguese,

Spanish and

Italian. Also, I want to learn

German.
Friends
"A friend is someone who gives you total freedom to be yourself."
―Jim Morrison
I consider all the staff on the GTA Wiki my friends, but there are some persons that I consider best friends: Ilan and Cesar, my first friends here, true ones, they are always ready to help, competent admins; JBanton, a car expert and a good friend; Tom, possibly the only bureaucrat I'm not afraid to talk to; Thomas, great editing skills, football (soccer) passioned like me and Cesar. Boomie is also one of my first friends.
Favorite Game Franchises
Grand Theft Auto
Pro Evolution Soccer
Crysis
Spider-Man (yep, sounds pathetic...)
Battlefield
Call Of Duty (used to be a great franchise, not sure about now)
Platforms
PC



Operating System: Windows 7 Ultimate 64-bit (I'm not yet convinced I should get Windows 8)
CPU: Intel Core i3-3220 CPU 3.30 GHz
RAM: 8.20 GB Dual-Channel
Motherboard: MSI MS-7759
Graphics: AMD Radeon HD 6850
Hard Drives: 2 Terabytes Hard Drive
Optical Drives: HL-DT-ST DVD-RAM GH22NS30 ATA Device
Audio: AMD High Definition Audio Device
Mobile Phone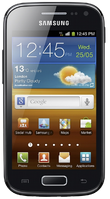 Samsung Galaxy Ace 2
Color: Black
Operating System: Android

CPU: 0.8 GHz Dual-Core

Camera: 5 MP


Favorites
Favorite OS:
Android



Favorite School Classes:
Mathematics, English and Geography
Favorite TV Series:
Dexter

Favorite Electronics Brand:
Samsung
- for innovation
;
Apple
- for products' quality



Favorite Console:
PC



Favorite Football Teams:
1. FC Petrolul Ploiești 2. Real Madrid 3. Borussia Dortmund

Gallery