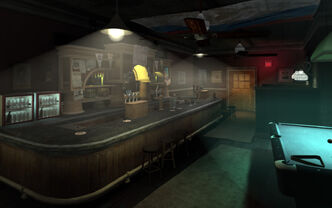 The 
Golden Seal
is a sports bar located in 
Waylon
, 
San Andreas
. Located at the seedier end of Waylon's waterfront district it is a favourite of the city's less reputable denizens and has seen an unusually high number of brawls.
It offers all the ammenities one would expect from a sports bar offering; Pool, Darts and Air Hockey. It also frequently hosts impromptu Arm Wrestling and Hi-Lo competitions which occasionally end in violence as the loser disputes his loss. 
It is a favourite hang out of Devils Chosen MC who took a liking to the bar after setting up in Waylon. Club members and prospects can often be seen drinking in the bar and motorcycles parked out front have become a familiar sight. The Golden Seal is also popular with unaffiliated bikers who visit to drink with members of the Devils Chosen. The owner and staff are on good terms with the outlaws who patron their bar meaning that it has been spared a 'take over'.
Known Employees
Stocked Beverages
Beers (on tap and in bottles or cans)
Spirits (bottles only)
Non-alcoholic
Trivia