Raziel Reaper/Sandbox/Sal
Talk

0
"I am just a businessman from Sicily. I have made a few mistakes, and perhaps I have not always followed the law to the letter, but I always believed in its spirit. The police associate me with my brother, but I never do these things they blame me for."
―Salvatore Leone as reported in the Liberty Tree article, "Just a Business Man".
Salvatore Leone is a character in the Grand Theft Auto series, appearing as a main character in Grand Theft Auto III and Grand Theft Auto: San Andreas, and as a central character in Grand Theft Auto: Liberty City Stories.
Don Salvatore "Sal" Leone is the head of the Italian-American Leone crime family, based in Liberty City. Since his rise to power during the 1980s, Salvatore became one of the most powerful men in Liberty City's underworld, owning several businesses and politicians in the city.
He plays a major role in three 3D Universe games - GTA III, GTA San Andreas and GTA Liberty City Stories - the first one in which he become an antagonist, while in the last one he acts as the player's main ally.
In all of his appearances, Salvatore Leone was voiced by Frank Vincent.
Biography
Background
Early years
Salvatore Leone was born and raised in Palermo, Sicily.[1] Most information of early years remain unknown, although it is known he had a brother, and he was close to one of cousins, who would be killed by the Sindacco crime family.[2][3] He rose to power during the mid 1980s, after a bloody power struggle.[4] probably against his uncle, as the two of them would later be involved in a gang war in 1998. Salvatore's parents were dead by 1992. [5]
Life in the USA
Salvatore immigrated to Liberty City with his first wife and the couple had a son by the name of Joey. Salvatore's wife died at some point prior to 1992. Prior to 1992, Salvatore bought a mansion, which he named "Salvatore's Gentlemen's Club".
By the 1980s, Salvatore became a powerful mobster boss and the undisputed Don of the Leone crime family; as of result, he also became a bitter rival of both the Forelli and Sindacco families, the former being in control of Sonny Forelli (until his death in 1986) while the latter is led by Paulie Sindacco. It appears that Forelli's demise contributed to Salvatore's rise to power.
Events of GTA San Andreas
"I'm the job! Me and my money. And I want it back, and I want it back fast. Johnny fucking Sindacco even so much as blinks at you, I want to hear about it. You find a way to get my money and fast. Understood?"
―Salvatore to Ken Rosenberg.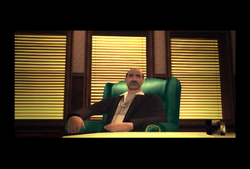 In 1992, Salvatore is visited by Paulie's son, Johnny Sindacco, in his mansion; Johnny offers Salvatore to join him and the Forellis in Las Venturas to co-manage the Sindaccos' Caligula's Palace, by loaning 5 million dollars to the casino.
Salvatore is somewhat skeptic and angry at the Sindaccos' offer to give him a stake of the casino in exchange for his money, going as far to insult Johnny's parents. However, Salvatore finally accepts Johnny's offer, but with one condition: to get the controls on the casino. As Johnny can't accept that one condition, Salvatore comes up with an idea; the three families will hire a third-party guy who will manage the casino while the families will manage him. He also tells Johnny to eliminate the current manager.
After Johnny orders the manager's death, Salvatore offers to hire Ken Rosenberg for the job, an ex-lawyer of the Forellis, as he is a guy that "[they] can all push around", to which Johnny accepts. Salvatore then makes a call to bring Rosenberg, before moving to the casino.
At the casino, Salvatore intimidates Rosenberg, telling him that he solely works for the Leones, and not the Sindaccos or the Forellis. Threatening the exlawyer with a pistol, Salvatore orders Rosenberg to get his money back fast and keep an eye on Johnny. He then calms down the frightened Rosenberg before asking to get him a drink.
Hiring Carl Johnson
In a series of events, Johnny Sindacco enters into a shock and later dies due to a heart attack.[6] Following his death, Salvatore decides to make a move of taking over the casino after learning of Johnny's death and the Forelli's plans to assassinate him.[7] He ties up Rosenberg's associates Kent Paul and Maccer out Ken's office's window so if Ken will get off his couch, they'll fall.
At Ken's office Salvatore first meets Maria Latore, a waitress working at the casino who brings him the sandwich he has ordered. He take an interest in the woman and orders his bodyguard to pay her for the service.
After Maria leaves, Salvatore encounters Carl Johnson, another associate of Rosenberg, who reveals to him he was working with the Don's son, Joey, back in Liberty City. Pleased to hear that, Salvatore tells Carl of his situation with the Forellis and asks him to assassinate the hitmen before their arrival. Carl succeeds in stoping the hitmen and begins to work with Salvatore, with the latter not knowing that Carlplans on robbing the casino.
Later on, Salvatore continues to flirt with Maria, teaching her how to throw knives (using Maccer as a target). As Carl enters the office, Salvatore greets him for successfully doing the job. Angered at the Forellis' attempt on his life, Salvatore sends Carl over to Liberty City to attack Marco's Bistro, the Forellis' turf. Carl uses this opportunity to free Ken, Paul and Maccer from Salvatore by asking them as a backup (while in reality he tells them to get out Las Venturas).
Unexpected betrayal
Salvatore: "You're dead! Your friends are dead! Your family's dead! I'm gonna fuck you up, and your children and your grandchildren!"
Carl: "Well, it's been nice talking to ya, but I got some money needs spending on some expensive trash, so if you'll excuse me."
Salvatore: "You're dead! DEAD!"
—Salvatore threatening Carl over the phone.
Post-San Andreas
Events of GTA Liberty City Stories
Toni's return
Post-Liberty City Stories
Events of GTA III
Leone meeting
Eliminating threats
Betrayal at Claude
Assassination
Character
Personality
Appearance
Appearances
Trivia
Gallery
GTA III
GTA San Andreas
GTA Liberty City Stories
References